Discover our range of Fragrances from Miller Harris:
L'Air de Rien – 100 ml
Miller Harris L'Air de Rien was created by Lyn Harris
for the iconic singer and actress Jane Birkin.

Lyn translated Jane's desires with amber, vanilla, oak moss
and musks. This mysterious fragrance expresses her true self, ethereal and airy, hence the name.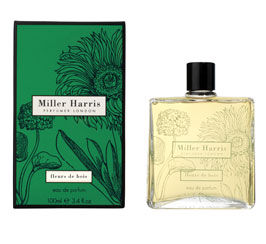 Fleur de Bois – 100 ml
Inspired by walks through the secret garden in London's Regent's Park, Lyn Harris presents this exquisite bouquet which captures the moist crispness of dewy grass and the gentle beauty
of a traditional English garden.
Cœur de Fleur – 100 ml
Miller Harris Cœur de Fleur is a perfect floral fragrance.

A base of Florentine iris, amber and Madagascan vanilla supports a heart of sweet pea, mimosa, Egyptian jasmin, raspberry
and peach to make a warm, but intensely feminine, impression.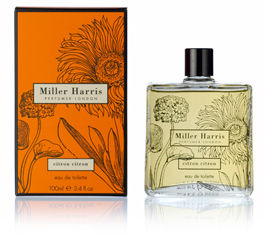 Citron Citron – 100 ml
Miller Harris Citron Citron is the essence of citrus
with all the bright, clean freshness that suggests.

A vibrant spritz of Sicilian lemon, Spanish orange and Jamaican lime are given spin by cool mint and basil, while a complex base
of green moss, Moroccan cedar and cardamom
provide a lasting background.
Miller Harris Terre de Bois is a woody fragrance suited equally
to any man or woman who enjoys a perfume evocative
of all that is urban and French.

Galbanum, a resin from Persian fennel, juniper and clary
sage are at the heart of this relaxing perfume.

Vetiver, Malay patchouli and verbena give it a distinctive introductory edge.
Miller Harris Fleur Oriental is perfect for the evenings
and whatever may follow.

A re-interpretation of the Oriental family, its lasting power comes from a base of amber, vanilla and musk, which is lightened
and animated by fresh orange flower, heliotrope, spicy carnation
and Turkish rose.
Miller Harris Cœur d'Été was created by Lyn Harris during
the early stages of her pregnancy
when her already acute sense of smell became heightened.

Needing something to nurture her senses she created this very pure scent made up of flowers: white lilac, cassie and heliotrope, blended with unusual ingredients such as chocolate bean,
banana and liquorice.

A joy to wear, this scent keeps getting better and better
as you wear it.
Miller Harris Fleur du Matin was inspired by the dew and herby floral bouquet of an early morning walk on the island of Port Cros.

During this fragrant journey, pine, marjoram, honeysuckle, jasmin and neroli are surrounded by galbanum,
basil, grapefruit and lemon.
Miller Harris Feuilles de Tabac takes you to the woody, smoky, romantic brasseries of Saint-Germain.

Complex Cuban cascarilla oil and pimento berries contrast with
a cooling heart of pine needles and velvet sage.

With its base of tonka bean, tobacco and Malay patchouli,
Feuilles de Tabac's strong character has a haunting quality,
which makes it a sensuous choice for both men and women.
In the Miller Harris Noix de Tubéreuse fragrance, Lyn was deeply inspired by this dramatic and sensual flower,
sourced from one of the last remaining tuberose fields in Grasse.

The plant's intensely fragrant leaves are at the heart of this scent with base notes of tonka bean, orris and amber.

Top notes of wild green clover, mimosa and violet animate
this mysteriously exotic fragrance.
Miller Harris Geranium Bourbon is a complex blend,
deep and rosy; a combination of cassis berries, lemon geranium
and Turkish rose - the scents of an English garden after the rain.

Geranium Bourbon is unique.

It is light, complex, young and sophisticated
and one thing is for sure - it is truly addictive.
Miller Harris Figue Amère was inspired by the bitter, ripe, green figs found on the coast of Ibiza: the curious contrast of fleshy fruit with astringent salt.

Top notes of bergamot and mandarin contrast with a heart
of narcissus poeticus, rose and green violet leaves on a heady base
of cedar, amber and sea moss.
Mille Harris Tangerine Vert evokes childhood memories
of comforting sweet citrus fruits combine with
a mature delight in fresh greenery.

Sicilian green tangerines share a fragrant basket with grapefruit and lemon, seductively muted with herby marjoram, geranium and orange.

The base is provided by cedar, moss and sweet musk.
This enduring scent appeals to both sexes.